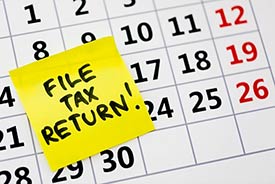 For those filing business returns in addition to individual forms, changes introduced by the new law will make the tax forest seem even thicker. Business owners will face a bounty of tax questions when preparing their companies for the new tax code. What are the new rules for pass-through income? Should you change your business status from an S-corporation to a C-corporation? Should I turn my freelance business into a sole proprietorship? What new forms need to be filled out? What old forms DON'T need to be filled out? And most importantly: how do I come out ahead? With many of the new law's features supposedly geared towards helping businesses, you don't want to miss these opportunities to cut down on the federal government's slice of your earnings pie. And with so many different business forms listed on the IRS's website, it's easy to get lost without help. Linda's Accounting, LLC has a team of experts dedicated to solving your business tax issues.
If you're filing taxes for your business, chances are you have seen enough forms for one lifetime. Whether a C-Corp or limited liability corporation, a mountain of paperwork was required to get your business its legal structure. Linda's Accounting understands the tax liabilities of each type and will help you get your tax return in order.  With offices in Hackettstown, NJ and Belvidere, NJ, Linda's Accounting, LLC provides services for multiple states and specializes Schedule C returns. But Schedule C tax preparation isn't their only specialty. Linda's Accounting, LLC has expertise in all realms of the business world, including:
Limited Liability Corporations
S-Corporations
C-Corporations
Partnerships
Non-Profit 990s
Linda's Accounting, LLC provides quick turnaround filings for any of these business types and can even help with home office deductions. Whether you're self-employed or own a large business with many workers, Linda's Accounting, LLC has all the necessary services to make sure your company's taxes are done accurately and efficiently. New tax laws may be confusing, but filing your return doesn't have to be. Contact Linda's Accounting, LLC and put your tax preparation in the hands of qualified experts.